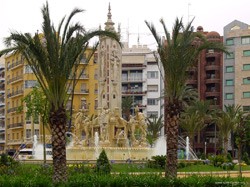 A city with a true Spanish flavour, Alicante stands on the country's eastern Mediterranean coastline, along the famed Costa Blanca. Often known locally as simply 'Alicant', the city of Alicante stands in the Valencia region of Spain and is the area's second-biggest city.
Alicante is known for its seafront promenades and wide esplanades, such as Alicante's impressive Rambla Méndex Núnez, where al fresco dining abounds. With a renovated historic Old Quarter (El Barrio), many long and sandy beaches and a favourable year-round climate, it is easy to see why Alicante has become such a desirable tourist destination. Alicante also offers endless sightseeing opportunities and an array of seasonal events, with June's Las Hogueras fiesta being a definite highlight.
Alhambra Villas have been promoting the area of the Costa Blanca for the last 15 years selling properties in areas such as Campoamor, La Zenia, Playa Flamenca, Torrevieja, Guardamar, Quesada to name but a few.
There are a huge amount of activities to do in Alicante such as Golf, water sports, tennis, kite surfing, pony trekking, horse riding, archery & lots, lots, more.
Alhambra Villas has prepared a list of golf courses for you to enjoy.
Bonalba Golf Club, Mutxamel
Alicante Golf Club, San Juan Beach Alicante
Alenda Golf Club, Monforte del Cid
El Saler Golf Club, El Saler
Bosque Golf and Country Club, Chiva
Mediterraneo Golf Club, Borriol
Escorpion Golf Club, Betera
Oliva Nova Golf Club, Oliva
El Plantio Golf Club, Elche
Villamartin Golf Club
Campoamor Golf Club
Las Ramblas Golf Club
La Finca Golf Club